The World's most Expensive Wines list : let's not forget the rule of supply and demand!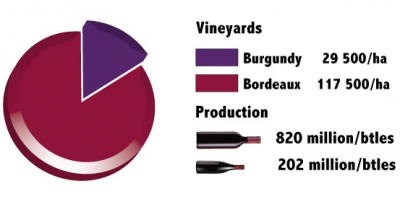 by Maxine Colas
I recently read a couple of articles about the much publicized « World's most expensive wines list », published by the website Wine Searcher, and was surprised to notice that one essential issue had been overlooked…supply and demand.
Quality apart, it is hardly surprising that the best Burgundian wines figure at the top of the price list – with Cuvée Richebourg Grand Cru Henri Jayer weighing in at a staggering $16,193 on average per bottle – when you know just how tiny the production is, compared to Bordeaux's Château Lafite Rothschild. Cuvée Richbourg Grand Cru Henri Jayer is produced on a handkerchief-sized plot of 2 hectares which, with a yield of 25hl per hectare, turns out an average of 5,000 bottles (just over 401 cases) a year.
Château Lafite Rothschild, on the other hand, is one of the largest Médoc properties, with its 105 hectares of vines, and produces on average 250,000 bottles (around 20,000 cases) every year. It is not surprising then, that Lafite's bottles, which are so much more available due to their number, are priced at a « mere » $1,209 a bottle…
When you know that the entire Burgundian wine region produces an annual 202 million bottles compared to Bordeaux's 820 million, it is understandable that Burgundy wine is more expensive than Bordeaux.
Although, in a tasting, it is very difficult to compare the quality of a fine Burgundian single variety pinot noir with a noble blending of Cabernet Sauvignon, Cabernet Franc and Merlot (sometimes enhanced with Petit Verdot) from Bordeaux, it is not so hard to understand the price difference between a Romanée Conti (1.80 ha of vineyard; 5,000 bottles a year; average price $12,527 a bottle) with a Château Petrus (11.5 ha ; 54,000 bottles at $2,985 each) or a Mouton Rothschild (80 ha ; approx.250,000 bottles a year at less than $700 each on average).
As Prince Robert of Luxembourg commented a couple of years ago, in answer to my query about whether he was concerned that prices were hitting unreachable heights : « Its a simple equation of supply and demand. I can hardly flood the Chinese market with my 600 cases a year of Haut-Brion white, so of course, as a rarity in demand, it has become expensive. »
'Limited edition' wines, like any other luxury product (Ferraris for example…), are far more expensive than others, because there is simply not enough of them to go around. And there really are plenty of people out there with sufficient means to buy…
Contact :
maxine.colas@bordeauxwinenews.com