2011 : the second vintage in Perrodo Estates for marjolaine de Coninck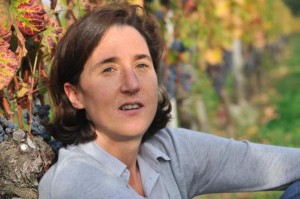 Marjolaine de Coninck, General Manager of  Château Marquis d'Alesme and Château Labégorce in Margaux since March 2010, talks about the Vintage 2011
« This vintage 2011 is more complicated as Nature did not give us everything as in 2010.
More than never, decisions, strategy were important.
As we are finishing to pick grapes we can say that Petit-Verdot and Cabernet will be amazing.
Thank to the nice summer weather we have had for 2 weeks….. »
Marjolaine de Coninck the General Manager of the Perrodo family estates since march 2010.
After working abroad in growing and winemaking (France, Chili and Argentina), Marjolaine de Coninck settled in Bordeaux in 1997 to begin a career path in the finest appellations.
She made a name for herself at Vitigestion, a company specialized in the provision of sustainable operations for chateaux. This enabled her to acquire management experience in several properties (up to 6) and various appellations (Haut-Médoc, Listrac, Bordeaux, Saint-Emilion, etc.).
In 2006 she took up the reins at the Château L'Arrosé, Grand Cru Classé in Saint-Emilion.
This initial management post in Libourne was followed by her taking the helm in estate management for the Adams family; American investors with 6 Right Bank properties including Château Fonplégade, another Cru Classé in Saint-Emilion (70 hectares, 36 staff, 200,000 bottles produced per year).
This was a unique experience, and a confrontation with the American management team taught her many valuable lessons!
She met Hubert Perrodo for the first time in 2006 when he was looking for an Estate Manager.
In March 2010, Marjolaine de Coninck decided to commit to this great adventure in Margaux with two major objectives in mind:
– The rebirth of the Château Marquis d'Alesme Cru Classé with a new motto « The new generation of Grand Cru Classé »
– The establishment of the original Château Labégorce brand as an essential Margaux.
The 2009 vintage is symbolic of the rebirth of Château Labégorce's original growth
Hubert Perrodo brought history into the present with his 1989 acquisition of Labégorce Margaux, then in February 2005, Labégorce Zédé. Since then, the two estates have belonged to a single owner, just as they did in 1332.