The World Wine Markets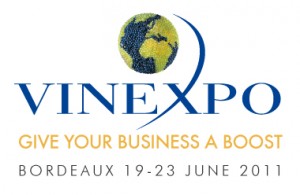 The World Wine and Spirits Market and Forecasts to 2014 from the VINEXPO Study

Half the world's total production continues to come from three major producers: France, Italy and Spain.
China first entered the top ten producing countries worldwide in 2007 and by 2010 had moved to 7th place. Its production is expected to increase the most, up 77% between 2010 and 2014.
Wine consumption worldwide continues to grow
The total world consumption of grape-based wine reached 31.51 billion bottles, up 4.5% compared to 2005.
This growth had slowed down significantly over the three previous years. Between 2009 and 2014, the VINEXPO study forecasts a moderate increase in world wine consumption of 3.18 %.
Light wines take the Lion's share
In 2009, still light wines accounted for 92.6% of all wine consumed across the world.
Worldwide growth in consumption is driven by three countries: the U.S., China and Russia
Nearly three quarters of this growth will come from three markets: the U.S., up 26.94 million cases, China, up 20.76 million cases, and Russia, where 5.53 million more cases are expected to be consumed.
The U.S. will become the world's leading wine market in 2012
Light wine consumption is expected to  decrease by 0.82% in the same period in Italy and  by 4.06% in France.
Rosé wines have wind in their sails
Although the overall share of rosé wine consumption only represents 9.9%, its growth will be the strongest between 2009 and 2014 and is expected to reach 7.76%.
Growth of the sparkling wine
Sparkling wines accounted for 7.4% of all wines drunk worldwide but their consumption is expected to grow by 5.61% between now and 2014.
Worldwide wine sales turnover increases twice as fast as volume consumption
Total wine sales turnover* expressed in terms of consumer prices  up 9.25% compared to 2005, while over the same period, the volumes of still light wines consumed grew by 4.2%.
Between 2010 and 2014, sales figures are expected to follow this growth trend.
* Retail sales inclusive of tax. The VINEXPO study is the only one to estimate the world sales turnover of still wines containing less than 15° alcohol by volume and sparkling wines. The information provided is based on a constant US dollar value and average exchange rates for the other world currencies in 2009 (e.g. US$1 = €0.719).
Premium wine sales soar
In 2009, wines sold for more than US$10 per bottle accounted for 7.53% of the volumes of still light wines drunk worldwide. Between 2005 and 2009, the consumption of this category of wines increased by 20.15% and is expected to grow by a further 15.37% between 2009 and 2014.
High level of international trade
One bottle in four consumed anywhere in the world is imported.
Italy is the leading world exporter of wines by volume. France remains the leading world exporter of wines by value.
The World Spirits Market
After increasing by 7.61% between 2005 and 2009 and following a clear drop in consumption worldwide in 2010 of 2.11%, the VINEXPO study forecasts a return to growth of 2.23% between 2010 and 2014.
Asia is the leading regional consumer of spirits
Asia, the continent that consumes the most spirits, accounted for 44.6% of total world consumption in 2009, a 5.48% increase compared to 2003.
After substantial growth between 2005 and 2009 of 20.22%, spirits consumption marginally decreased by 0.8% in Asia in 2010. The VINEXPO study expects consumption to return to growth of 4.76% between 2010 and 2014.
Rice-based spirits traditionally drunk in Asia that are gradually being replaced by wine.
In fact more of the "international" spirits, except for gin, were consumed in 2010. Vodka is clearly the leading spirit to be consumed throughout the world.
Between 2005 and 2009, rum consumption rose by 16.3%, and this is expected to continue at the rate of 14.04% between 2010 and 2014.
Similarly Cognac and Armagnac consumption grew by 20.26% between 2005 and 2009. These beverages are expected to add further growth of 4.51% between 2010 and 2014.
Also worthy of note is the consumption of Tequila, which, even though the volumes involved are smaller, showed significant growth of 15.22% between 2005 and 2009.
Total spirits sales turnover reached US$ 205.935 billion in 2009, up 30.59% compared to 2005.
The worldwide trend in favour of premium brands is expected to continue between 2010 and 2014, when retail sales are expected to grow by 9.5%.
From Vinexpo
Founded in 1971, the database of The iwsr has the widest scope and is the most accurate and most detailed source of information within the world market of alcoholic beverages.