Château Guiraud celebrates the Moon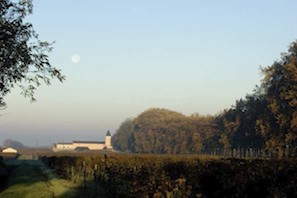 The Chinese Moon Festival always coincides with the start of the harvests for the great wines of Sauternes. A unique harvest that enables the production of the Golden Elixir of Bordeaux.
This year, Château Guiraud is pleased to be organizing the first « Golden Moon Festival » in Sauternes which will bring together Chinese people staying in Bordeaux on 12 September 2011.
One of Château Guiraud's core values that it shares with the Moon Festival is the celebration of conviviality. Since 2006, Château Guiraud has belonged to four friends* who are united in their taste for nature, wine, gastronomy and l'art de vivre.
For Château Guiraud, a Premier Grand Cru Classé, the respect of nature is a vital part of its approach to obtaining a purity of flavour that reflects the exceptional terroir. A pioneer in Bordeaux, Château Guiraud is the only Grand Cru Classé in the 1855 classification with organic certification. This certification is part of a general ecological approach, in which the observation of the moon and natural elements play an important role.
*The four owners of Château Guiraud are:
Robert Peugeot, a well-known figure in the automobile industry and the current Chairman and CEO of FFP, the main
holding company for the Peugeot family's interests
Xavier Planty, an oenologist and the devoted manager of Château Guiraud since 1986
Olivier Bernard, director of the Domaine de Chevalier, one of the great estates of Pessac Léognan
Stephan von Neipperg, an agronomist and oenologist, owner of Château Canon La Gaffelière and La Mondotte
For further information, please do not hesitate to contact www.chateauguiraud.com